The modern bathroom embodies elegance and practicality at the same time. Contemporary bathroom vanities do a lot to further improve the design of any bathroom. Their functionality is also one of the reasons why more people are having vanities installed in their bathrooms, no matter the size. A person interested in adding vanities to his home will not find it difficult to select from a wide array of contemporary vanity choices.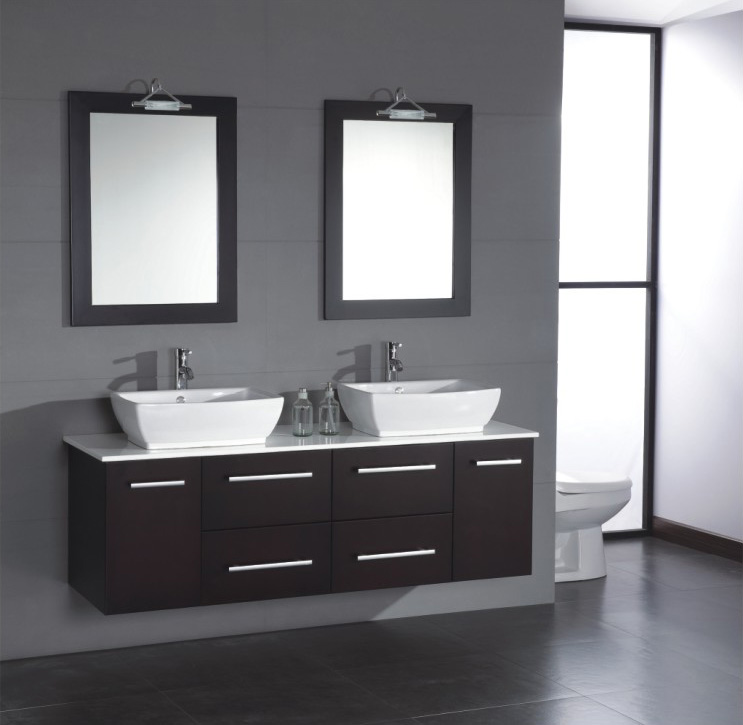 To make your modern-styled bathroom more interesting, it is important to select vanity designs that harmonize with all other elements in your bathroom. Take a good look at your bathroom design and make notes if necessary before you make a decision on what kind of vanity you should buy. Contemporary bathroom vanities can either be frosted, have angled or curved fronts, or slab doors. It would be a lot of help asking a professional or review the basics of interior design so that your investment is sure to be well worth it.
One important factor that you should consider in buying bathroom vanities is their placement within the given bathroom area. To avoid awkward placements and maximize the functionality of your vanities, seek help from an interior designer. He could help you decide on what size and shape of vanity would work best with your bathroom's floor plan and design.
Basically, you have a choice between traditional bathroom vanities that stand on the floor or those that will be set up on legs. Wall-hung vanities are now also becoming more popular because they make a small bathroom look more spacious and open. Bathroom vanities with legs will also look good in small rooms because it gives the illusion of space as you can see the floor. If you opt for the last option, tiles in large format or with mosaic patterns will look good.
Bathrooms that are larger in size or with high ceilings will look good with vanities standing directly on the floor's surface. For a more contemporary design, you can ask your house builder to set the tile wainscoting high and run a border around the bathroom, through the shower and behind the vanity.
Placing modern bathroom cabinets in your bathroom would also be a good idea. They improve your bathroom's aesthetics and serve a practical purpose as well. Vanity cabinets, which are now available with modern finishes, carry all your bathroom necessities for better convenience. You can get one in metallic finish or in bright colors in shades of blue, red, or orange. You can always use cabinets with traditional wood finish alongside more contemporary bathroom vanities.
Modern bathroom vanities come in different sizes to fit any room. Manufacturers would gladly even provide you with extras like linen towers, vanity toppers, and so on to better enhance the design of your modern bathroom. Get started by requesting for color and texture samples.
Enhance the look of your bathroom with contemporary bathroom vanities. Looking for a contemporary vanity to fit with the existing design of your bathroom is easy if you know which designs complement the size and shape of your bathroom. Vanities like sinks and modern bathroom cabinets are pleasing to look at and functional as well.