The wall-mounted vanity, sometimes called a "floating vanity," is nothing new to the bathroom design scene. For some time, they have been especially common in commercial and industrial settings, such as high-end restaurants, hotel rooms, and more. But it wasn't until this decade, really, that they became immensely popular in residential applications as well.
Indeed, if we take a look at Google search trends, we see that floating vanities and wall-mounted vanities are now more popular than ever across the globe, really hitting their stride around 2009: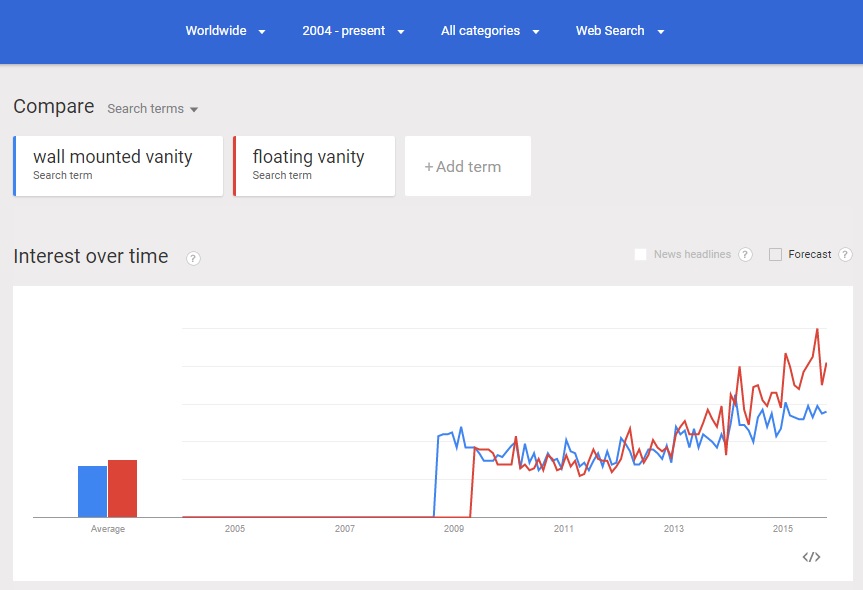 It took a little longer for Floating-Vanity-Mania to reach the United States (around 2011), but you can see things are trending upward here at home as well: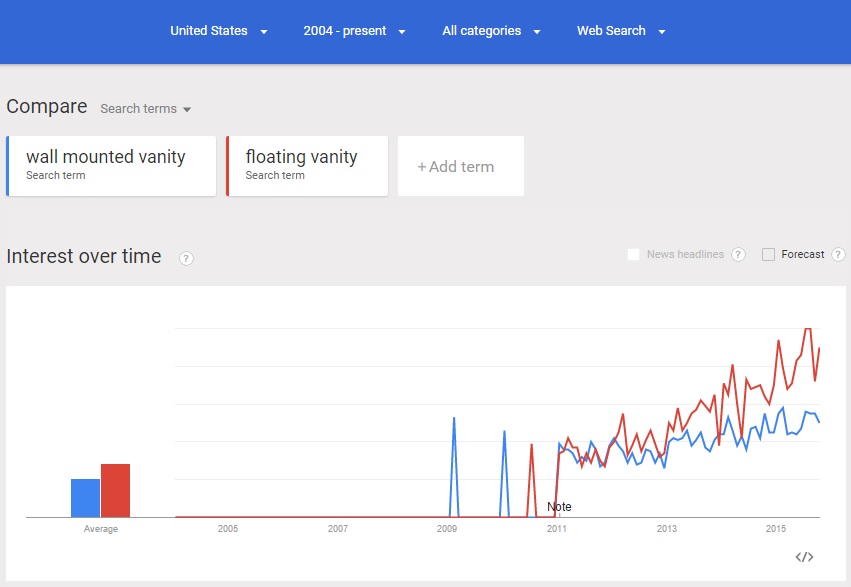 This is all very exciting for lovers of the style, but why are these vanities so popular now, and what does it mean for the future of bathroom design? Let's dive in!
Why So Popular?
1. Keeping Up with the Jetsons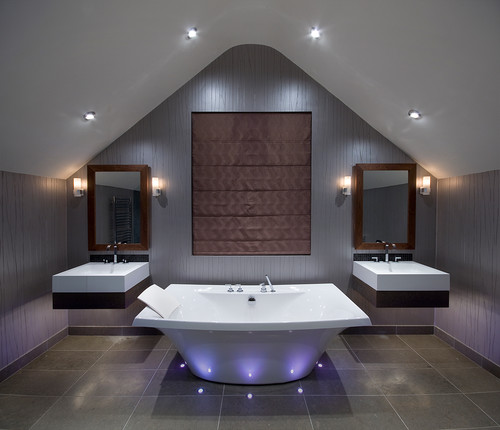 Via Houzz
Essentially, popularity begets popularity, and as something gets adopted over and over again, more and more people end up, well, adopting it. This continues until a new trend or fad emerges to supplant the old one. Why the snowball effect? Well, people tend to want the "cool new thing" because it fosters a sense of belonging. You want the cool new things that your neighbors have, because having that thing means YOU won't be the one person on your block who's missing out. This phenomenon is known colloquially as "Keeping up with the Joneses."
But something has to ignite that initial spark of interest to convince enough people to adopt it in the first place, or else this snowball effect simply will not happen. In the case of floating bathroom vanities, that spark was likely the unique, futuristic, and elegant look of the vanities themselves. There's something sort of space-age about them, yet they are still grounded in the stylistic tropes of timeless design. And when they started to emerge on the scene, there was not much else out there that could fill that niche. They were adopted solely by virtue of being different, without being too different.
2. Flotation Innovation
Another point in favor of floating vanities is their inherent customizability. Because they are mounted against a wall, you can be much more selective with where your vanity is placed, as well as how high or low the countertop is.
But because wall-mounted vanities don't need to rely on a stable and flat surface to stay upright, certain manufacturers have gotten particularly clever with their floating vanity designs. Many feature individual compartments that can be installed in any number of permutations and arrangements, depending on your tastes. Take, for example, the Scorpio vanity here:
Or the Modus vanity here: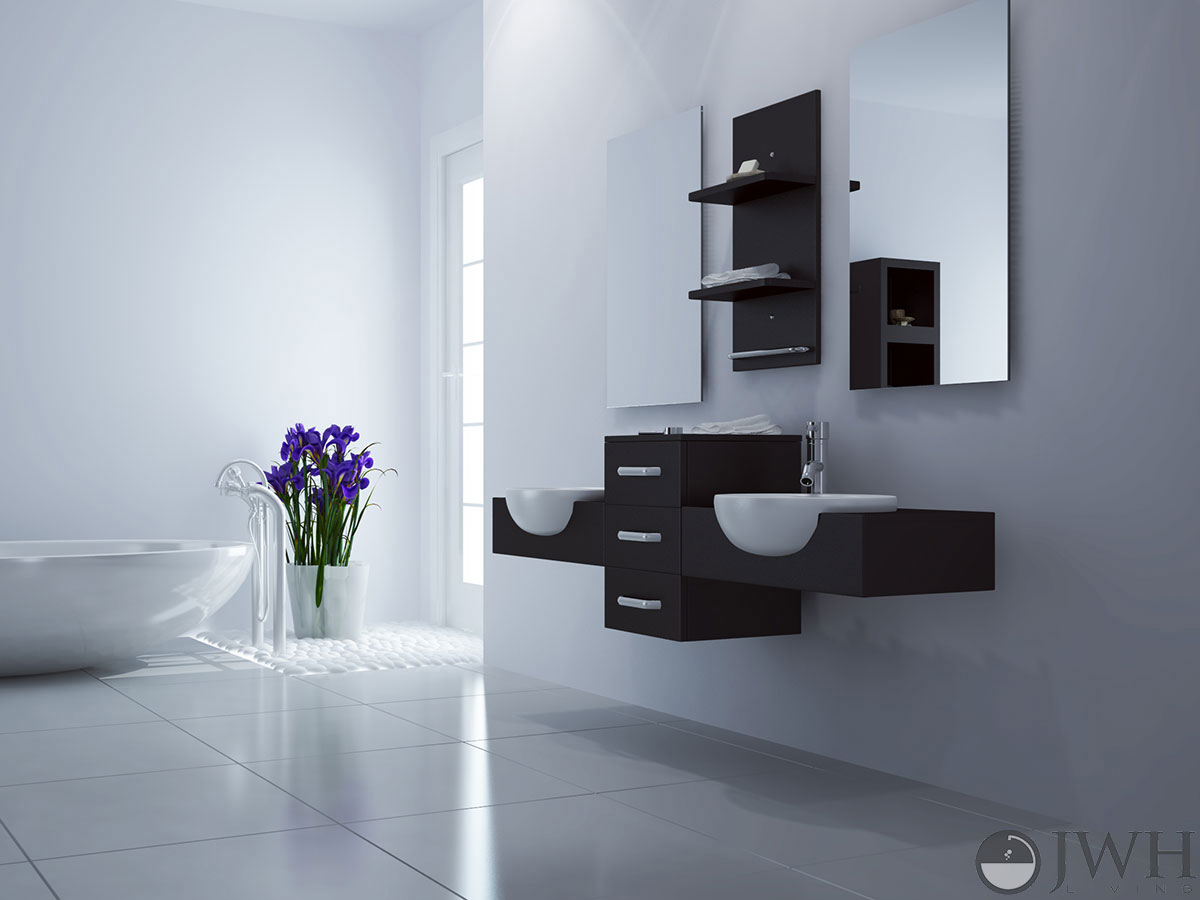 Or even the Stile vanity: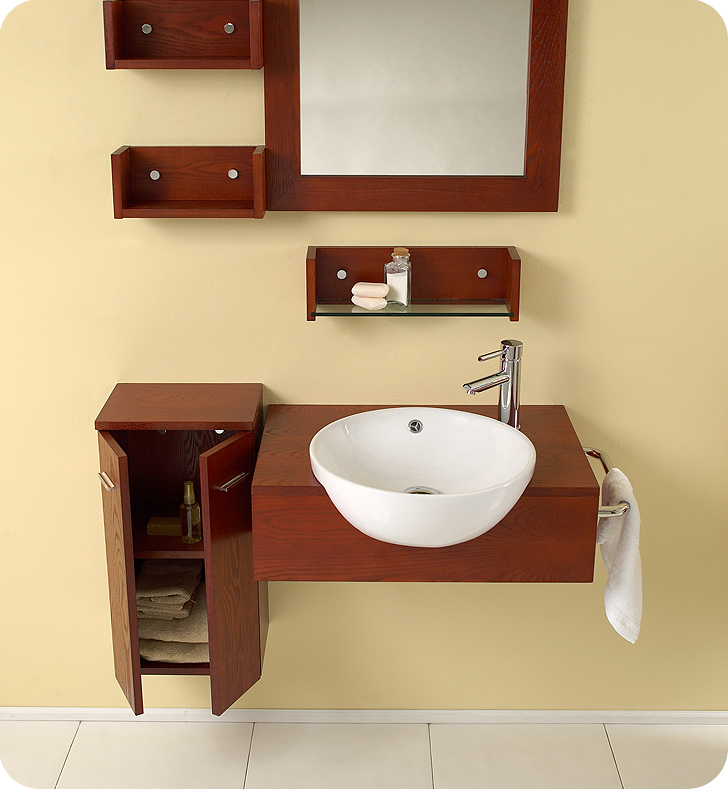 The modularity of these wall-mounted bathroom sinks means you can mix and match compartments to your liking. Do you want a Modus, but with two sinks side by side, and the cabinet drawers off somewhere else? You can do that! Or maybe you want a Scorpio vanity with the double drawers off to the side, or directly beneath the sink. Or maybe you want to make a double-sink Scorpio by adding another angled sink-top to the unit. You can do that!
This level of personalization is pretty unique to floating vanities, and surely makes them even more popular!
3. Light as a Feather, Stiff as a Board
Wall-mounted vanities, due to their modularity, tend to be very easy to move around and are significantly lighter than their large, floor-standing, single-piece vanity cousins. They can be more challenging to install, as you'll want to make sure your mount frames are aligned correctly and are attached to strong anchors (we recommend hiring a professional, but you can do it yourself if you're pretty handy). But despite this, they are actually easy to transfer from place to place, and are built to last a lifetime. Due to their unique installation methods, wall-mounted vanities are often built to be even sturdier than typical floor-standing models, to effectively withstand all the warping and fluctuations that come with a humid environment.
4. Space: The Final Frontier
Another huge advantage to wall-mounted vanities is the amount of space they can free up in your bathroom. Extra free space serves two main purposes: making the room look bigger, and giving you more room to organize and store toiletries and linens.
Bathrooms are already filled with necessary "stuff:" you've got your toilet, bathtub, shower (though these are often just part of the bathtub), and sink cabinet, plus a medicine cabinet, a place to hang towels, mirrors, lights, and a ton of toiletries. These things NEED to be in a bathroom, but the bathroom itself is usually one of the smallest rooms in the house. This puts space at a premium.
Now, having space under a vanity won't afford you a huge amount of newfound room, of course. But it will allot you just enough space for a wicker basket or two, perfect for linens, towels, or toiletries. Or you can opt not to fill that space at all, which creates the illusion of more room. Feeling like your bathroom is larger than it really is can make the space more comfortable and relaxing, and having a bathroom that feels more spacious (even if it's not actually much more spacious) can do wonders for the bottom-line value of your home.
Future Forward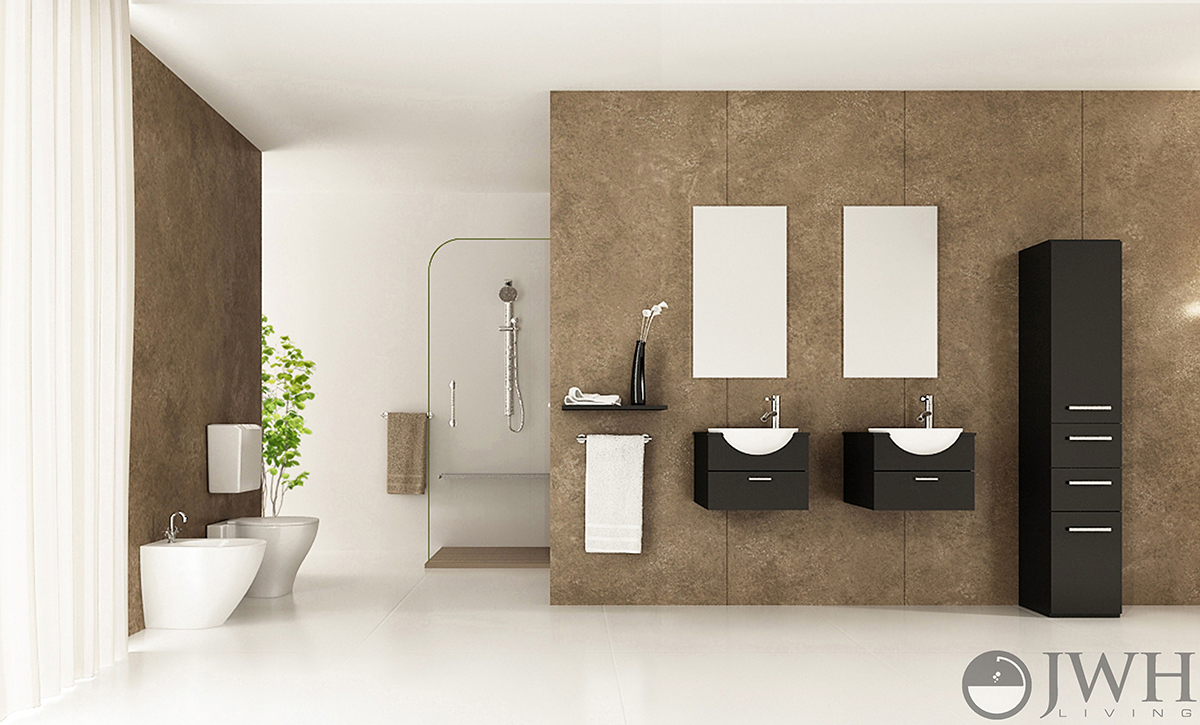 Obviously, there's a lot to like about wall-hanging bathroom vanities. They're practical, economical, and very, very cool. So, is this "trend" simply a "fad" – or will it stick around a while longer?
Given the dramatic but consistent increase in search interest for this particular vanity niche over the course of several years, we can safely say floating vanities aren't going away anytime soon. But at BathGems, we don't really think this interest is going to taper much at all. While purely aesthetic fads tend to fade after a few years in the limelight, wall-mounted vanities represent more than just a skin-deep makeover: they fundamentally change the paradigm.
The floor-standing vanities of years past served their purpose, but they were heavy and bulky, difficult to work with, prone to stress-related damage, nearly impossible to move once installed, and took up more space than they offered in return. Floating vanities are basically the opposite of that.
Ultimately, which type of vanity is right for you comes down to personal preference, but if "practicality" trumps "pizzazz" in your mind, it would be hard to pass up floating vanities. And if you like the "modern" look more than the "transitional" or "antique" look, again, wall-mounted cabinets are your best bet. Floating vanities allow for more versatility with the rest of your bathroom design as well, so at least in the professional commercial and residential interior design space, we don't see them leaving any time soon.
We think it's a no brainer. Floating vanities are here to stay. They don't replace floor-standing vanities, but they aren't a momentary diversion away from the tried-and-true floor models either. They are the new, cool cousin that everyone likes, and will continue to like for a long time to come.