White & Cream Bathroom Vanities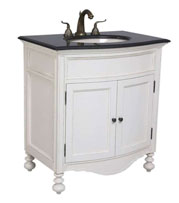 Transform your bathroom into a pristine, zen-like space with our classic white bathroom vanities. These cabinets feature a clean, gentle finish that exudes cleanliness and purity. But these white vanities offer so much more than a pretty face - they also feature ample storage within the cabinet itself, and sturdy construction that ensures any white vanity purchased from BathGems will last a lifetime in your modern home. Find the perfect white or cream-colored cabinet for your bathroom today and enjoy free shipping on all orders.


72" Caroline Double Sink Vanity - White
Featuring durable materials such as its beautiful solid oak cabinet finished in a deep White finish, and its complementing Italian Carrera White Marble top, you'll find your bathroom completely transformed with the 72" Caroline Double Sink Vanity within it. The sinks can be cut squared or rounded to give yourself a more traditional or modern look. The Caroline Double Vanity also comes with a matching mirror!
MD-2072-WMRO/WMSQ-WH
$1909.00

72" Grand Boardwalk Double Sink Vanity with 5cm Marble Top
If you're looking to recreate the entire aesthetics of your bathroom, the 72" Grand Boardwalk Double Bath Vanity makes a gorgeous statement. The crisp, white finish of the Boardwalk brightens up any room and features two large, double-door cabinets that are accompanied by 4 pull-out drawers in the middle. Each drawer and cabinet door is equipped with soft-closing hinges or glides, adding an extra measure of protection to your bathroom vanity. The top is made of White Carrera Marble and is pre-cut with 3 faucet hole sin an 8" spread. Choose from a rounded or square cut ceramic sink.