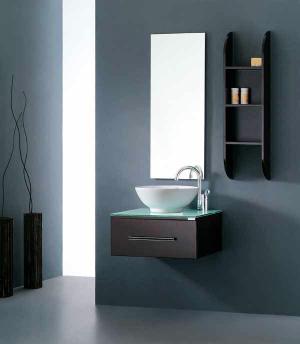 It's surprising to know that a number of households in the United States are bereft of a good bath vanity. What's a vanity? My point exactly. Many people remain unaware of the functions of bathroom cabinets much less think about installing one. Even if some people know what vanities are, they still get left out in renovation projects for the bathroom because some homeowners don't see a need for them.

Actually, the bath vanity has various uses, the most apparent of which is its purpose as storage space. The number and amount of bathroom necessities you can store is contingent on the size of the vanity. The cabinet can also be a repository for bathroom cleansing products in preparation for those times you want to clean the toilet. Just keep them away from young children.
Owning a bath vanity also helps you conserve a bit of time in the morning rush to the bathroom, especially if you are sharing it with other people. I know I've mentioned this before, but it just can't be emphasized enough. Arranging all your bath necessities in a vanity compartment instead of getting them one by one from a pouch reduces the time you spend grooming yourself in the bathroom.
If you think the storage space isn't enough, you can renovate the bathroom to make room for double sink bath vanities. This is an ideal option for people who can't help but share the space with another person, like a mate, a friend, or kids, as these vanities come with a wide counter top and substantial under-the-sink storage space for bathroom necessities like toiletries.
A modern bathroom vanity not only provides storage space, it also lends an elegant aesthetic appeal to the bath. Today's market for bath fixtures is replete with vanities of different finishes, colors, sizes and shapes. This assortment in models makes it easier for homeowners to choose which vanity will perform both as storage space for bath essentials and as decoration for the bathroom's interior design.
So who considers the bath vanity a useless fixture? Investing in one for your bathroom actually increases the value in both monetary and aesthetic terms. The more storage space a house has, the greater its value to some people. This is also true for great bath vanities that intensifies a bathroom's charm. Keep these tips in mind when you suddenly feel the urge to renovate your bathroom.
Many people remain unaware of the function of the bath vanity beyond its utility as a storage space. Apart from being a larder, the modern bathroom vanity is also a work of art, lending beauty to an otherwise Spartan environment. If you find the storage space or the variety of designs available inadequate, you can opt to refit the bathroom to accommodate double sink bath vanities.