Invest in a one-of-a-kind bathroom vanity
With so many different styles of bathroom vanities many people feel as though they may be getting in a little bit over their heads. But even so, your unique bathroom deserves some unique bathroom vanities, which add character and charm and also ample storage space for all your organizational needs. For all those toiletries you don't really want to keep out in the open Installing a vanity for your bathroom remodel is critical for these reasons. Take some time before buying a bathroom vanity to really think about what you'll be storing in it. You do want to ensure that you have ample space before you spend any money. Why even bother with a vanity cabinet, no matter how beautiful it is, if it doesn't give you sufficient storage space? To that end, it would be a good idea to invest in a product that is both attractive and highly functional.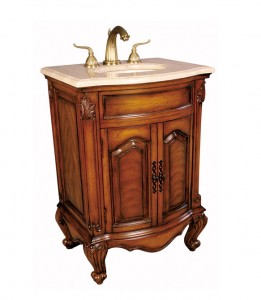 If you are a little low on free space, you can still get a nice vanity. What it means though is that you are going to have to make sure that you are being a little more cautious with your space. There is a wide range of small bathroom vanities to pick from. No longer are the bathroom vanities nothing more than a white box. It's easier now to find gorgeous designs than ever before. Carefully shopping for bathroom vanities is a way to combine function with style. There are many extravagant and ornate style bathroom vanities out there, but there are subtle and simple designs too. Without a doubt there is going to be something out there that matches your exact needs and taste in cabinetry.
Be imaginative in your design
When you shop for a bathroom vanity, you might notice that all the styles and varieties can basically be grouped into two distinct types.  These are, to wit, American and European style bathroom vanities. If you are really into making sure that you are getting the most for your money then you will want to take a look at custom made pieces. You can have bathroom vanities made as large or as small as you need. This is especially helpful for those who are working with spaces that are not very typical in bathrooms. An unconventionally large or small bathroom, or a bathroom with a unique shape, would be well served by custom bathroom vanities.
You will absolutely make the most of any bathroom if you get creative and use your own ideas. Staying organized is the ultimate goal, so by making the vanity set design yourself you will be able to make sure that you are getting exactly what you want and what you need. It is also a great way to make sure that you have something that is at the very least slightly different then what everyone else has. We all know that people like feeling unique and different, and their homes are no exception. People enjoy having others envy their home and there is no better way to make sure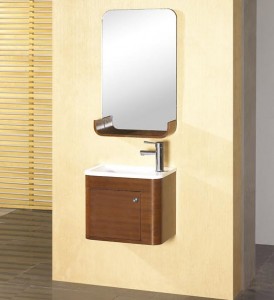 that it happens other then custom designing your pieces.
The take away message here is that you should make sure you put plenty of time and consideration into your shopping experience to insure that you get the best item for your money. Make sure that you are ending up with exactly what you want and do not settle for anything less. Since this is probably the last time you will replace the bathroom vanity, at least for a long time, you want to make sure that you end up with the right cabinets. You're going to want to end up with a vanity set that suits the needs of your family now and in the future. By taking everything into consideration you will be sure to make sure that you are making a wise investment. If you are completely unsure whether or not you have what it takes to select the right bathroom vanity for your home then consult a professional decorator. It is extremely important to make sure that you get what you need so do not waste any time or money.