There are a number of easy ways to totally remodel your bathroom without breaking the bank. One fantastic option is to install a sink vanity, which will truly transform the look of your bathroom. It sounds simple, but adding a sink vanity may be all it takes to add that great look your bathroom needs. These vanity sinks are one of the hottest trends in bathroom decor at this point in time. They are instant design classics that will add value and charm to your bathroom.
The Return of Vanity Sink Design
While many people think that regular vanity vessel sinks have been the tradition for years, in the past it was vessel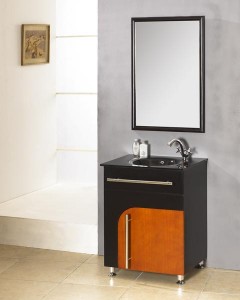 sink double vanities that used to be the tradition. They were used in most houses many years ago, but today they are beginning to make a huge resurgence as people become more aware of the excitement and beauty they can add to a home. Essentially these bath sinks are sinks that either sit on top of counters or on furniture. You'll find that they are very different from the regular white porcelain sink that so many people have. With all they have to offer, there's definitely a reason that they are making a big comeback.
The Fusion of Form and Function
It is apparent that vanity sinks bring functional beauty to the forefront of any bathroom redesign. These sinks look amazing and give your home a chic and contemporary look. These things aren't all show, however. They fulfill a wonderful utilitarian purpose too. A nice sink vanity can also increase your home's value. If you are going to sell within a couple years or even years down the road, you are going to find that your home will be more valuable and the sink vanities will make your home more marketable as well.
Find Modern and Attractive Styles
If you are interested in installing a great sink vanity in your own house, be aware that there is a wide selection of unique stylish designs in old-fashioned and modern styles to choose from. You'll find options available that will match just about any bathroom decor that you have in place. Vessel Vanities are available in a wide range of sizes, shapes, colors, materials, and designs. No matter your look or personality, you will surely find something that works for you.
A Host of Personalization Options
One of the more desirable qualities of vanity vessel sinks is how easy they are to personalize according to your preferences. If you don't want to have just another average vanity in your bathroom, they are a great way to go. So many different options are available including the types of materials that you can choose from for your sink vanity. Here's a look at some of the materials that you can use when choosing your own vessel sink bathroom vanity: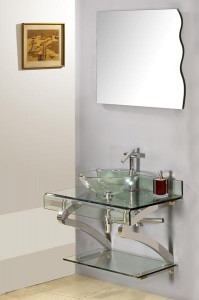 –  sink vanities made from Glass – One material to consider when you want to go with a vessel sink vanity is glass. You'll find that tempered glass is not that expensive and it's not too heavy either. They are easy to maintain and the glass option definitely provide you with a clean and contemporary look.
–  sink vanities made from Stone – Another incredibly popular material is stone. Stone has a definite classic appeal although it can be very heavy, and it is commonly found in either marble, granite, or travertine. You'll find that stone vanities are quite expensive and they require quite a bit of care as well. However, the look you get with stone vessel sink bathroom vanities is truly amazing.
If you feel it may be time to give your bathroom a makeover, think about installing a brand new sink vanity. You'll add style and elegance to any bathroom, and you'll increase your home's value too. Both of these reasons are enough to merit a new sink vanity.