Trying to figure out a simple way that you can change your bathroom design without having to redo the entire bathroom? One excellent option you have is to go with a new vessel sink vanity to transform the way you entire bathroom looks. Simply adding a vanity sink can give your bathroom a whole new look that you are sure to love. These vessel sink vanities are among today's hottest bathroom design trends both for amateurs and professionals. They are a timeless feature to add to your bathroom and they'll give your bathroom an instant makeover as well.
The Recurrence of Vanity Sinks in Bathroom Design
The average person assumes that vessel sink vanities are old-fashioned, but really they are much newer than double sink vanities. They were used in most houses many years ago, but today they are making their triumphant return as more people grow to realize how beautiful they can be in a bathroom. Essentially these vessel sink vanities are sinks that either sit on top of counters or on furniture. You'll find that they are very different from the regular white porcelain sink that so many people have. These sink vanities offer so much to a homeowner that it's easy to see why they are making a comeback.
The Melding of Beauty and Usefulness
One thing is certain when it comes to vessel sink vanities, and that is that they effectively combine both beauty and function together. These sinks look amazing and give your home a chic and contemporary look. These vessel sink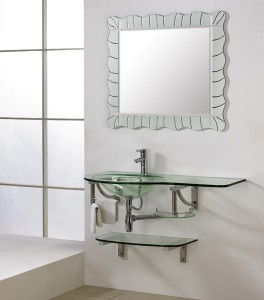 vanities fulfill necessary services aside from their aesthetic charms, of course. A nice bathroom sink can also increase your home's value. If you are going to sell within a couple years or even years down the road, you are going to find that your home will be more valuable and the vessel sink vanities will make your home more marketable as well.
Sleek and Streamlined Designs
There are a variety of different attractive and contemporary designs available for you to choose from if you want to install a vanity sink in your home. You'll find options available that will match just about any bathroom decor that you have in place. Whatever your personality, you can surely find a great sink vanity among the almost limitless variety available. Choose from a huge range of dimensions, styles, shapes, designs, and materials.
Many Customization Options
These vessel sink vanities are mostly customizable, so you can more effectively curb bathroom ennui. If you don't want to have just another average vanity in your bathroom, they are a great way to go. So many different options are available including the types of materials that you can choose from for your vessel sink vanity. Here's a look at some of the materials that you can use when choosing your own vessel sink bathroom vanity:
–  vessel sink vanities made from Glass – An especially considerable option, it's easy to see why tempered glass is so popular in modern bathrooms. You'll find that tempered glass is not that expensive and it's not too heavy either. They are easy to maintain and the glass option definitely provide you with a clean and contemporary look.
–  vessel sink vanities made from Stone – A very popular choice in the field of vanity sink materials is natural stone. Stone is usually available as travertine, marble, onyx, or granite, and it can be very heavy. You'll find that stone vanities are quite expensive and they require quite a bit of care as well. However, the look you get with stone vessel sink bathroom vanities is truly amazing.
If you feel it may be time to give your bathroom a makeover, think about installing a brand new vanity sink. You'll add style and elegance to any bathroom, and you'll increase your home's value too. Really, can you think of a good reason not to invest in a bathroom sink vanity?